Zigbee Embedded Network Trainer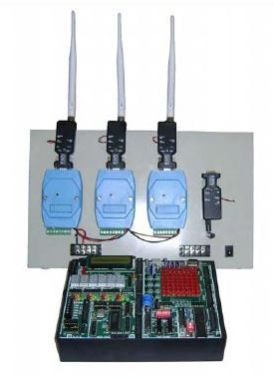 Business Type
Manufacturer, Exporter, Supplier
Operating Temp.
-20oC to +75oC
Power Supply
+5 to +6 V dc.
Type
Network Trainer
Click to view more
Our company is engaged in exporting and supplying of Zigbee Embedded Network Trainer. Wireless embedded communication design, manufacture and integrate innovative, practical and easy to implement wireless solutions. These solutions provide our customers a fast track to either incorporate wireless technology within their current products or to simply design a new product range with built in wireless technology. Using the Zigbee Embedded Network Trainer, user can transmit the data wirelessly from the coordinator (connected to the PC) to the two end devices node (connected to the Trainers) or vice versa. So that user will able to run different experiments in both communication trainers wirelessly. The coordinator (Transmitter) will transmit the data to the all end devices of different short address, MAC address without the routers. This all can be done using the manager software, which is used to detect different end devices of different short addresses. So just select the end device node where user want to transmit data. Communications between the host (Transmitter) and Trainer (Receiver) is in ASCII format. The wireless industrial serial terminal provides a fully compliant wireless coordinator, Router and End device function via a standard interface.

Features
Suitable for home/building automation, industrial control and monitoring, low power wireless sensor networks, PC peripherals, set-top boxes and remote controls, consumer electronics etc.
High performance and low power consumption.
Operates on battery power input of 3~5V.
Excellent receiver sensitivity and robustness to interface.
Used as coordinator, router or end devices.

Application
Wireless sensor networks, particularly IEEE802.15.4/Zigbee systems.
Home and commercial building automation.
Internet of things.
Wireless sensor network.
Industrial control and monitoring system.
Setup boxes and remote controls.
Consumer electronics

Specifications
The Wireless Embedded Communication Trainer two in number having the following feature :
Communicated wirelessly at 2.4GHz,/2.5GHz, range 100 ~ 300 ft , various badurates, Data rate of 250 kbps and 8 bit data.
It has various output devices like :
Six Seven Segment Displays
Stepper Motor Controller Interface
LCD Display Interface
8x8 LED Interface Block
Status LEDs 12 Nos

It has various input devices like :
Four Data Switches
Relay
Opto
Real Time Clock
Switch Array
At24C16 Serial EEPROM

It has various analog I/O devices like :
8 Channel ADC Interface
1 Channel DAC Interface
Looking for "
Zigbee Embedded Network Trainer

" ?