Satellite Communication Trainer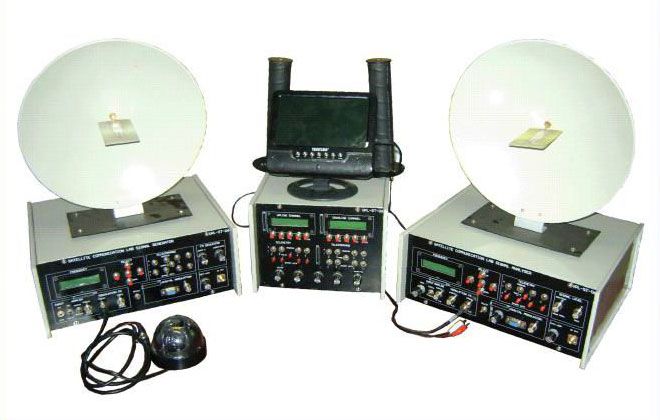 | | |
| --- | --- |
| Business Type | Manufacturer, Exporter, Supplier |
Satellite Communication Trainer
has been designed to study completely about satellite communication system i.e. how a signal is transmitted and received using satellite standards. The complete unit of Satellite Communication Trainer consists of three sections; Satellite Uplink Transmitter, Satellite Emulator and satellite Receiver. The satellite emulator receives signal from satellite uplink transmitter which can be analyzed and emulated using various satellite instruments like spectrum analyzer. The received signal is then retransmitted to satellite downlink receiver where the signal is retrieved. The signals which are used for transmission are audio, video, and digital data. A provision to connect function generator is also provided. Using the above setup concepts like baseband analog signal parameters, phenomenon of linear polarization C/N ratio, S/N ratio, fading of a received signal, digital baseband signal parameter propagation delays can be studied. Data sent from one computer can be received on another computer using satellite link.
Simultaneous communication of three different signals at each up-linking frequency
Communication of external broad band digital and analog data and base band signals.
Choice of different transmitting and receiving frequencies
Transmission and reception with helix, dish antenna is provided
Technical Specifications
Satellite Uplink Transmitter
Selectable 2.4 GHz band using keypad and LCD indication
5/5.5 MHz audio and 8 MHz video FM modulation
Adjustable path loss knob to 30 dB
Transmission and reception with Helix, dish antenna is provided
Detachable dish antenna with Separate Terminals for different inputs
Transmit three signals simultaneously at each up-linking frequency
FM Modulation of audio and video
In built power supply
Read More...
Looking for "
Satellite Communication Trainer

" ?