Local Area Network Trainer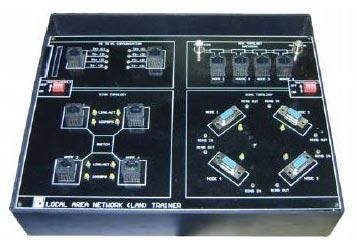 Business Type
Manufacturer, Exporter, Supplier
Power Supply
220 V ± 10%, 50 Hz / 60 Hz on request
Power Consumption
1.8 VA (approx.)
Dimensions (mm)
W 370 x H 265x D 125
Click to view more
Product Details
Inter Packet Delay
1000 - 5000 ms
Data transmission speed
10/100 Mbps
We are a chief Exporter and Supplier of Local Area Network Trainer. VPL's Local Area Network (LAN) Trainer provides the understanding of all the fundamentals of networking. It helps the user to gain knowledge regarding all network layers, cable designing and building of complete network of computers. The user can understand and implement various topologies using different standards given by IEEE. Connections can be made in different topologies and data can be transferred. The user will understand the protocols, topologies used in networking, measurement of error rate, throughput and effect of errors on protocols. The versatile software provided with VPL-LAN will assist the user to observe the various effects and configurations on network along with the graphical representation.

Features
PC to PC communication with IEEE 802.3
Peer to Peer network
Client - Server network
Design of Star topology using 100Base-Tx
Design of Bus topology using 10Base-2
Design of Ring topology using DB9
Creation of cables for network connections
Network design using RJ45, BNC & DB9 connectors
Socket programming and processing
Data Encryption and Decryption
Various LAN Protocols
Data rate up to 100Mbps
Variable packet size
Variable packet delay
Error generation (Manual and Auto)
Real time graphical representation of entire transmission & reception
User friendly software
Switch faults in both hardware & software
Exhaustive course material & references

Technical Specifications
PC to PC using RJ-45 Connector
Star topology using RJ45 Connector
Bus topology using BNC Connector
Ring topology using DB9 Connector
4 Nodes

Software :
Star, Bus & Ring selection
Protocols : CSMA/CD, CSMA/CA, Stop N Wait, Go back to N, Selective repeat, Sliding Window, Token Bus, Token Ring
Packet Size : 128, 256, 512, 1024, 2048, 4096, 8192, 16384
Error Generation : Acknowledgment lost, bad packet, auto error generation
Data encryption & decryption
Complete analysis of Network & Protocols

Graphical Representation : Graphic representation of data on s/w screen with packet details
Network Details : Indication of computer name, IP address, Port number, status of network, MAC address and OS on computer.
Network & Protocol Analysis : Indication of packet serial number, file name, file size, file number, receiver name, Workgroup ,receiver IP address , total packets, packet length, time out, protocol, topology, receiver, MAC address, port number, file send start time, file sent completion time, transmission time data rate(Mbps), error.

Experiments that can be Performed
Study & implementation of cable designs in networking
Implementation of PC to PC with IEEE 802.3
Implementation of Star topology using 100BaseTx
Implementation of Bus topology using 10Base2
Implementation of Ring topology using DB9
Implementation of Peer to Peer network
Implementation of Client- Server network
Study of protocols :
Stop-N-wait
Sliding window
Go back to N
Selective repeat

Token ring
Token bus
Measurement of throughput & effect of bit errors on various protocols
Socket programming
Study of wireless LAN

Note : Specifications can be changed and added without notice in our constant efforts for improvement.
Looking for "
Local Area Network Trainer

" ?