SUPERPRO Programmer (610P)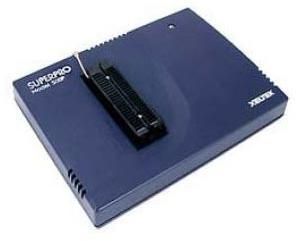 Business Type
Manufacturer, Exporter, Supplier
Size
320*300*85 mm
Weight
1.8 Kg
PC interface
USB2.0
Click to view more
Product Details
Mechanical parameter
Size - 178*130*40 mm
Our company specializes in exporting and supplying of SUPERPRO Programmer (610P). A USB interfaced ultra high device programmer, 610P Support devices with Vcc from 1.2V to 5V.

Features
Support devices with Vcc from 1.2V to 5V.
Extremely fast speed.
Built with 48 universal pin-drivers.
PC hosted mode and stand-alone mode. Under PC hosted mode the programmer is controlled by a PC via USB2.0 (high speed) to program a chip.
ISP/ICP programming capability available via ISP/ICP adaptor.
Only IC manufacturer approved programming algorithms are used for high reliability. (+5%~-5%) and (10%~-10%) Vcc verification enhances programming reliability.
Advanced and powerful functions.
Production mode start chip operation at the moment the chip is inserted in the socket properly.
Project function simplifies processes such as device selection, file loading, device configuration setting, program option, and batch file setting into one touch step
Password can be set for project files and production volume control
Batch command combines device operations like program, verify, security into a single command at any sequence.
Serial numbers generators are available as standard or customer-specific functions.
Log file is useful for quality tracking

Over-current and over-voltage protection for safety of the chip and programmer hardware
WINDOWS XP/Vista compatibility

Device Updates
XELTEK updates software and device algorithm regularly.
View the latestDevice List
Download the current software version free of charge .
Updates are available by mail at a nominal charge.
XELTEK also adds devices upon customers request at its
option.

Warranty Support : Programmer is warranted to be free of manufacturing or workmanship defects for one year from the date of purchase.

Hardware & Electrical Specifications
Supported devices : EPROM, Paged EPROM, Parallel and Serial EEPROM, BPROM, NVRAM, SPLD, CPLD, EPLD,
Firmware HUB, Microcontroller, MCU, Standard Logic. .
Packages supported : DIP, SDIP, PLCC, JLCC, SOIC, QFP, TQFP, PQFP, VQFP, TSOP, SOP, TSOPII, PSOP, TSSOP, SON, CSP, SCSP
Stand-alone Feature : None.
Electrical spec. of the AC adapter : AC input 90V to 250V, 50/60Hz, 
Accessories
Main unit with a DIP48 adaptor, AC adaptor, USB2.0 cable, software CD (include: install software, user manual), register card
Optional Accessories : adaptor in varies packages.
Looking for "
SUPERPRO Programmer (610P)

" ?