Power & Industrial Electronics Trainer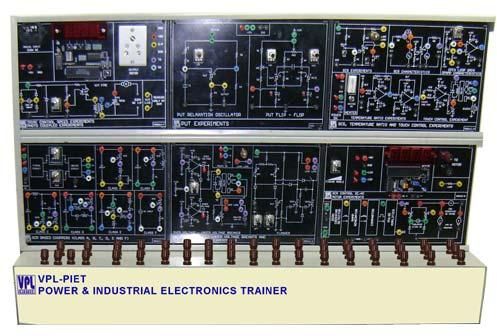 | | |
| --- | --- |
| Business Type | Manufacturer, Exporter, Supplier |
| Product Code | VPL-PIET |
Features :
Comprehensive study, including theoretical study and practical exercises.
Use of industrial type components, devices and circuits
Power Supply:  Variable- 0-10V DC/1Amp, 0-40V DC/1Amp

 DC Supply:
+5V/1Amp, +12V/200mA, +15V/200mA, +30V/200mA, ±12V/200mA, +30V/400mA
 12V  0 - +12V DC1/200mA, -12V 0 - +12V DC2/200mA, -12V0
+12V DC3/200mA, -12V 0 - +12V DC4/200mA

AC Supply : 0 10V/400mA, 0 12V/400mA, 0 24V/400mA, 10 - 0 10V/200mA, 16 0 16V/200mA, 220V

Socket : 3½ Digit Digital Meters -
DC Ammeter 0-20mA/0-200mA
DC Ammeter 0-200mA/0-2000mA
DC Voltmeter 0-20V/0-200V
AC Voltmeter 0-200V
AC Ammeter 0-200V

Motors:
DC Motor for SCR Control Speed Experiments
AC Motor for TRIAC Control Speed Experiments

Experimental Modules :
Characteristics Experiments and Advance Power Electronics Components like Power Mosfet & IGBT.
UJT Experiments, UJT & PUT Trigger SCR Experiments.
PUT Experiments.
PUT & SCR Experiments, Triac Overflow Experiments.
SCS Experiments, Temperature Ratio and Touch Control Experiments.
SCR Control DC/AC Motor Experiment.
Automatic Control Lamp Experiments, Various Turn ON Techniques for SCR & Triac.
Triac Control Speed Experiments, Photo Couple Experiments.
Over Voltage Under Voltage Breaker and Flasher Control Experiments.
IC Timer Switch Experiments.
Digital Signal Driver and Zero Voltage Switch, Advance Firing Scheme Experiments.
SCR Converter Experiments and Snubber Circuit using RC.
SCR Commutation Techniques Experiments (Optional).
SCR Inverter Experiments (Optional).
Cyclo Converter Experiments (Optional).
SCR Based Choppers (Optional).
IGBT/Mosfet Inverter Experiment (Optional).
Looking for "
Power & Industrial Electronics Trainer

" ?