PLC Demonstration Trainer (VPL-PLCT-S200)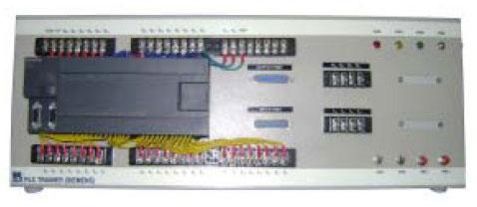 Business Type
Manufacturer, Exporter, Supplier
Digital inputs
8 or higher
Digital outputs
6 or higher
CPU
S7-200 Series
Click to view more
Product Details
Power supply
120 to 240V AC
Backup
100 hours typical (70 hours min at 40oC)
Baud rate
9.6, 19.2, 87.5 baud
Siemens Simatic PLC Demonstration Trainer (VPL-PLCT-S200) can control a wide variety of devices to support your automation needs. The Siemens PLC monitors inputs and changes outputs as controlled by the user program, which can include Boolean logic, Counting, Timing, Complex math operations and Communication with other intelligent devices. The compact design, flexible configuration and powerful instruction set combine to make the PLC a perfect solution for controlling a wide variety of applications.

Specifications :
Timers : 128
Counters : 128
Input current : 70/35 mA at 120/240 VAC
Resolution : 11 bits plus 1 sign bit
Communication Port : RS-485/RS-232
Real Time Clock : Built in
Interface Cable and document support

Experimental Modules
Following static process simulator board/model setup are required to test the developed programmes :
Water Tank level control & Reaction Vessel with sensors to detect different levels of water and switch off the water supply (Logic Controlled). This Module is provided along with the water tank and sensors, required accessories.
Reaction Vessel to control the temperature of water set by the Thermostat at a particular temperature by the user.
Seven segment display simulator for displaying a message.
Temperature Control controls the set temperature by switching ON/OFF relay. The temperature is displayed in the Hyperterminal
Lift control with experimental model of lift which is truly operational, totally controlled by manual switches to select the floors.
Pick & place control
Sequential switching of motors with two nos. of 220V AC/5A output to connect motor (motor not provided).
Conveyer Belt System and Pneumatic Control 3 cylinders with optical sensor and conveyer belt.
Looking for "
PLC Demonstration Trainer (VPL-PLCT-S200)

" ?