Embedded Trainer Kit (ET-PIC455)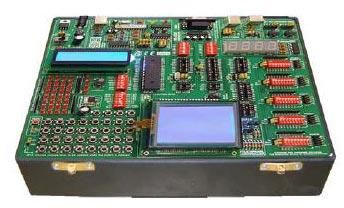 Business Type
Manufacturer, Exporter, Supplier
Type
Trainer Kit
Certification
CE Certified
Color
Metallic
Click to view more
Product Details
Operating Temperature
-25 +85deg C, -40 +70deg C
VPL Infotech & Consultants is a popular Exporter and Supplier of Embedded Trainer Kit (ET-PIC455). Embedded Trainer Kit (ET-PIC455) is a PIC microcontroller integrated development board for PIC18F4550.

Detail
Power Supply select - USB & external. Also there is a switch for turning onloff system
Very fast USB 2.0 programmer on board
Support more than 160+ ICs for development as well as programming devices like PIC12XX, PIC16FXX, PIC18FXX etc. We provide Microchip 18F4550 Micro controller
RS-232 communication with PC or another microcontroller.
All pins are connected to IDC connectors for further expansion
With One 2 X 16 LCD display plugs in via a connector on PC board
Very fast USB 2.0 programmer on board
On-board Keypad allows efficient entry of numerical data as well as other characters
Four Seven Segment Display
I/O expansion slots/connectors
On board push button switches and LEDs
PS/2 connector is used for connecting PS/2 device
System can be easily configured via clearly marked DIP switches
On board real time debugger with supporting assember/ compiler using MPLab and CCS software
Potentiometer is available for testing multiple AD conversion and comparators
Support for Microcontrollers in DIP8, DIP14, DI.P18, DIP20, DIP28 and DIP40 socket
Touch screen graphics LCD is available on-board
External power supply can be DC or AC
Power Supply and Reset circuit
USB comm. connector for MCU with USB facilities
Choose voltage level to be applied when a button is pressed (GND or +5V)
Crystal can be removed and replaced by another one.
36 diodes for displaying states of all pins on the microcontroller at the same time
All pins are marked on the back of the board.

Interfacing Modules
DAC Interface Card with 8 bit resolution and necessary circuits compatible to PIC18Fxxx and PIC32MXxxx
DC Motor Controller Card with DC Motor compatible with 18Fxxx series
Stepper Motor Controller Card and with motor comptible with 18Fxxx series
Temperature Sensor with driver and control circuit compatible with 18Fxxx series
Servo motor and driver circuit comptaible with 18Fxxx series
8 digit Seven Segment display with driver circuit, low curren/ high brightness, bread board mounting compatible with 18Fxxx microcontroller
16x16 LED matrix board with necessary driver circuit, low current/high brightness, pcb mounting compatible with 18Fxxx series
16x2 LCD module with necessary driver circuit compatible with 18Fxxx series
RFID Module
ADC Module
Touch Screen Panel (Optional)
Looking for "
Embedded Trainer Kit (ET-PIC455)

" ?