(2131/2131ER) CDMA Trainer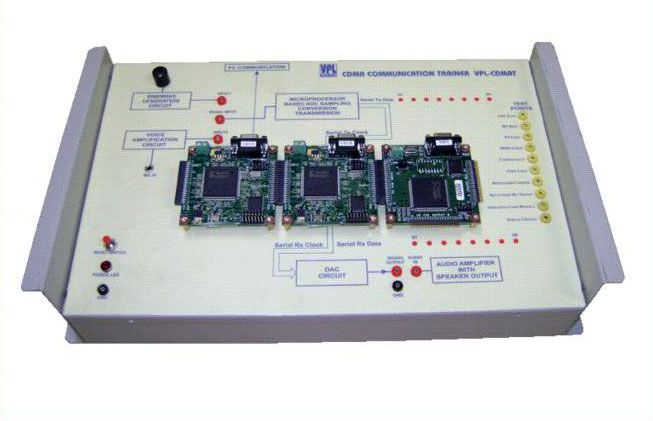 Business Type
Manufacturer, Exporter, Supplier
Type
Trainer
Color
Metallic
Voltage
110V, 220V
Click to view more
Product Details
Operating Temperature
-25 +85deg C, -40 +70deg C
CDMA Trainer (2131/2131ER) provides a basic understanding of the concepts behind CDMA, and various issues that need to be considered in the design of OSSS system. These include generation of various pseudorandom (PN) codes like gold, MLS & Barker with programmable tapings, variable chip rate, and digital modulations BPSK, QPSK & digital AWGN noise with programmable FIR low pass filter. In VPL 2131ER Model, Bit Error Rate (BER) measurement with known data sequence, overall data rate dependency parameters, spreading & dispreading with OSSS, SNR control, offset control & so on can be performed.

Specifications :
Direct Sequence spread  Spectrum (DSSS) Modulator, Demodulator
Programmable chi prates up to 10 Mchi p/s

Spreading Codes
Gold Sequences (up to 2²³-1 chips) Maximal length sequences (max length 2²³  1 chip)
Barker codes (length 11, 13)

Code Modulation : BPSK/QPSK/OQPSK with output spectral shaping filter; raised cosine square root filter with 20%, 25% or 40% roll off
Internal generation of pseudo-random bit stream and un-modulated carrier for test purposes

Built-in Channel impairments generation
Additive White Gaussian Noise
Frequency offset (Doppler)
Sequential code Search
4-bit soft-quantized demodulated bits

Extensive monitoring
Receiver lock
Carrier frequency error

Standard Accessories
Software CD-Rom
Theory manual
Programming Software
Operating & applications manual
Serial interface cable
Looking for "
(2131/2131ER) CDMA Trainer

" ?